Robo advisors are here to stay. Bank should embrace disruptive technologies, in order to enhance their customer reach with a focus on millenials and the mass affluent

Increasing popularity of employee stock options
Global Assets Under Management (AUM) will be around $100 trillion by 2020. Interestingly, about 5% of that is estimated to come from robo-advisory services. In addition, millennial assets are presently at $2 trillion and this segment is likely to inherit at least $30 trillion from parents and grandparents in the next 10 years. With self-learning algorithms that can help determine the client's risk appetite, financial context and investment preferences, robo advisorss are the new kids on the do-it-yourself street. It is no surprise, then, to see robo-advisorss becoming an increasingly popular avenue with self-help millennials, and also with the 'mass affluent' segment, for whom advice is now affordable. So, what does this disruption mean for the wealth management industry? Drawing on the Balanced Scorecard Framework, the implications are viewed from four different perspectives: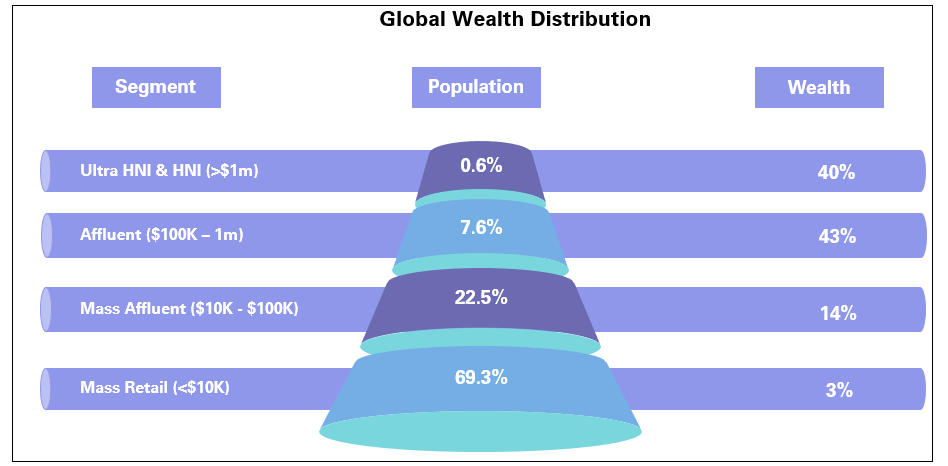 1. What financial impact does the robo advisors have on the transaction model?
While more than 40% of the world's wealth has been with the Ultra HNI and the HNI segment, they constitute less than 1% of the world population. The robo-advice movement is tapping into the mass affluent and emerging segments, that constitutes over 30% of the global population, by making investment advice affordable. Even while the established industry norm is 1% fees of the AIJM, robo-advisors deliver this at 30% of that fee structure, with increasing transparency and a simplified customer experience. More importantly, the ticket size of investments has moved down significantly — the average size of a robo-advisors account is between $20,000 and $50,000. A far cry from historical large ticket HNI segments.
2. How should the offering for the emerging new age customer segment be structured?
The key here is in the positioning - as a pureplay wealth management firm, a stand-alone robo-advisory offering, or a hybrid of the two. Interesting examples are Vanguard and Charles Schwab, who have built their own in-house robo-advisory capabilities to deliver a holistic offering. Vanguard reportedly built a $12 billion portfolio within six months of its launch, demonstrating the strength of this combined positioning. The other key consideration is in brand positioning — options include sustaining the same brand, designing a new brand for a robo-advice offering, or building a revised offering under a new brand.
Retail banks with an existing wealth management offering are well positioned to combine relationship management based high-touch advisory along with a virtual financial advisory. This also augurs well when banks have an established comfort of trust from investors and get to leverage their regulatory advisory license to leverage new age technology. The benefit of this end-to-end offering would also enable banks and wealth management firms to differentiate offerings based on types of customers, types of investment goals and degree of sophistication: higher end, personalised services aligned to regular wealth management services, While the lower value 'entry-level' investment categories and the young segment driven by Millennia's, with lower assets to manage, gravitating more towards robo-advice services.
3. Which processes are key to driving robe-advisory services?
CThe process framework in the robo-advisory services model would revolve around the three pillars of building the right client segment, delivering value enabled services and managing relationships in a digital environment.
Banks with an existing client base simplify the process of onboarding to their robo-advisory platform — the integrated model also helps movement of funds between accounts. Blackrock's acquisition of Future Advisor, and Schroders' investment in Nutmeg, are examples of emerging integrations. The increasing cost of compliance is also driving the need for banks to embrace this integration carefully. Fidelity Institutional Wealth Services has reportedly partnered with Betterment to facilitate institutional services to 3,000 Registered Investment Advisors (RIA) firms.
The reverse is also in vogue. Robo-advisorss with pure B2C services now offer digital expertise to traditional advisorss. Personal Capital and Future Advisor have differentiated themselves by offering value added services of asset aggregation, going beyond automated wealth management. Wealth Horizon, which was established in 2014. has positioned itself with a hybrid model of a robo-advice platform combined With human advice for portfolio Setup.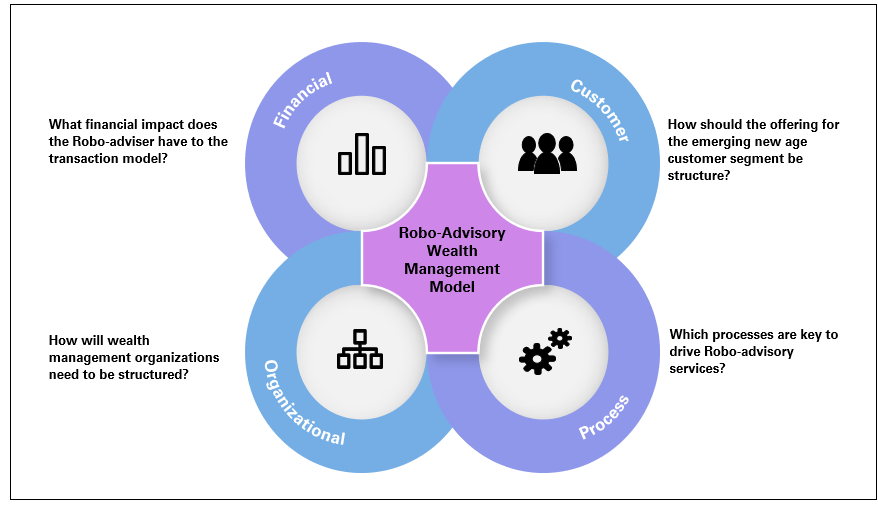 When it comes to delivering value, it's all about managing a simplified client experience, Online portals and automatic rebalancing are not new concepts in the industry - it is the efficacy of integrating with existing platform and making the process seamless, that will attract new segments to the existing portfolio .
4. How will wealth management organisations need to be structured?
There are two parts to the organisation model, when it comes to the robo-advisory model co-existing with traditional relationship managers, who may still be digitally assisted. In terms of the traditional model, the experiences of portfolio managers are still valuable. However. the skillset requirements of digital players are two fold — the first is to do with the technology and its support- which is a function of the IT model: depending on Whether this is developed in-house, through a partner or by means of an inorganic acquisition. The second part is the skill set requirement to drive media content on market news and stock research, through digital channels and blogs to their new age customers.
The writing is very much on the wall, as evidenced by the sharp decline in the number wealth management offers made even in the most reputed a-schools, Robo- Advisors are here to Stay. Banks would do better to embrace the new age disruption, and the sooner, the better!
To read more such insights from our leaders, subscribe to Cedar FinTech Monthly View
Talk to our Consulting leaders about how we can add value Contact us to make strategy & innovation work for you
Relevant CedarViews