Cedar serves as the platform for you to enrich your professional life, catering to your holistic development on an end-to-end basis. We serve as the enablers of your career, irrespective of the experience you carry with you. Our roles are open to individuals with varying levels of education & experience, further leadin gour team to be a diverse group of professionals, helping contribute their unique skill sets to the table. There is a Cedar for everyone, the place where you can make Strategy & Innovation work.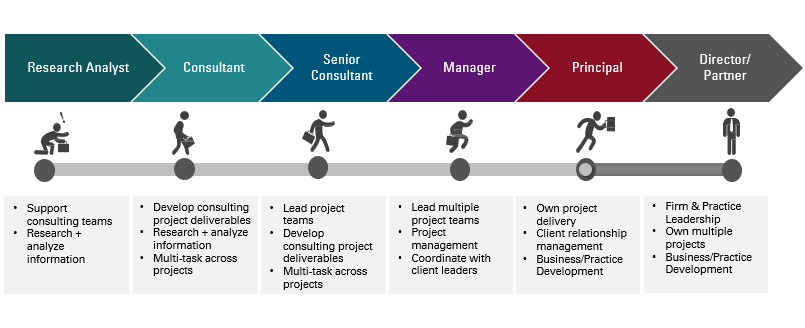 Research Analysts: This is the perfect role for students with undergraduate and masters' degrees who are looking to get their "feet wet" in the consulting world. You will play a part in Cedar's Global Research Team (GRT), supporting project teams with research and other document deliverables. A 18-24 month stint in the GRT team will prepare you extremely well for a role as a management consultant going forward.
Consultants: Our Consultant pool is made up of Research Analysts who grow within the firm and do exceedingly well, along with students who have an MBA degree and at least 2-3 years of prior work experience. At this level, you will play a generalist Consultant role across industries and practice areas, where your primary role will be focused on the development of research and deliverables for consulting projects you are staffed on. A strong ability to multi-task and work on projects in parallel is key. This is also the point in your career where you will begin to gain regular client-facing exposure via the projects you are staffed on.
Senior Consultants: Senior Consultants at Cedar typically possess 6-8 years of past experience, which includes a combination of past consulting and/or sectoral experience. As a Senior Consultant at Cedar, you will be expected to lead teams, multi-task across projects and deliverables, and often also lead day-to-day client management aspects of your projects.
Engagement Managers: This role marks the beginning of your responsibility to provide leadership and strategic inputs to project teams and other parts of the firm. By this point you will also be expected to position yourself as an "expert" and "thought-leader" in at least a few of Cedar's industry and practice areas. Managers at Cedar are responsible for leading multiple project teams, managing client communication, and also getting involved in other strategic firm-wide activities. This is also the point at which you will be expected to build business development capabilities, so as to enable you to play an important role in the growth of the firm's practice areas.
Principals: Principal consultants are expected to own project delivery, client relationship management, and also play an important business and practice development role at Cedar. By this point you will also be expected to position yourself as an "expert" and "thought-leader" in at least a few of Cedar's industry and practice areas. You will have the opportunity to work closely with the firm's global leadership, explore ventures within and outside the consulting business, and contribute to other strategic firm-wide aspects of the business.
Directors and Partners: Directors and Partners at Cedar form the firm's global leadership team. They are responsible for firm and practice leadership and growth, along with leading client relationships and insight development.
Understand what makes us unique
Dive deep into our work culture
Browse open roles and apply!