China & India Telecommunications markets offer attractive investment opportunities

Introduction:
The global telecommunications industry has weathered the storm and prospects are looking bright. Economic growth is driving the telecom spending with Year 2004-2005 revenues exceeding $ 1 trillion for the first time.
Worldwide Telecommunications Services Revenue and Growth, 2003 - 2008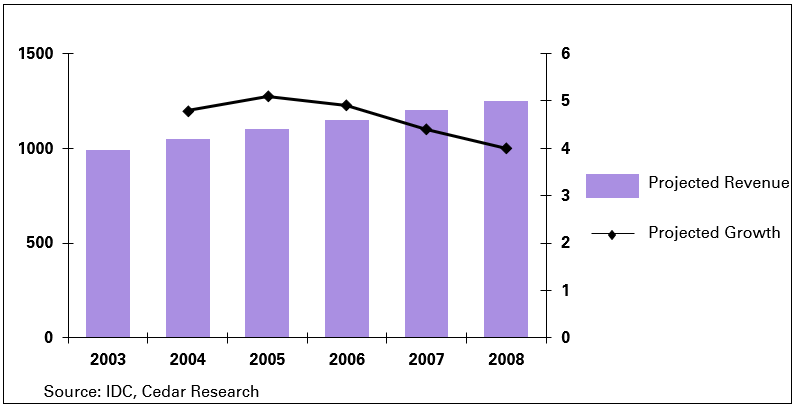 The bulk of the telecommunications services revenue has come from the voice market, contributing more than 70% of the revenue. Currently, revenue contribution of fixed line revenues is higher than wireless revenues, but this is likely to change with a surge in the wireless revenue market.
The expanding wireless coverage, especially in lesser developed communications markets and declining prices is making the service an affordable alternative to fixed line calling. As per published data the wireless market is expected to grow at a CAGR of 9% between 2003- 2008.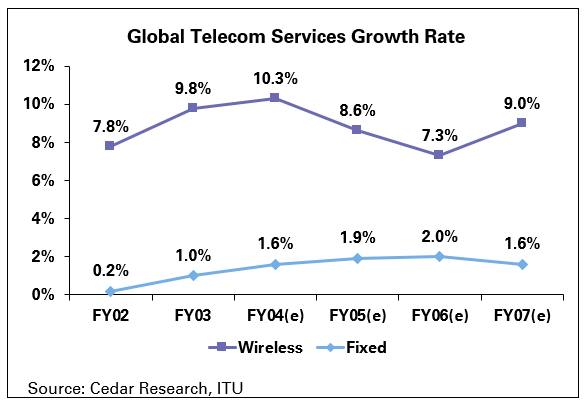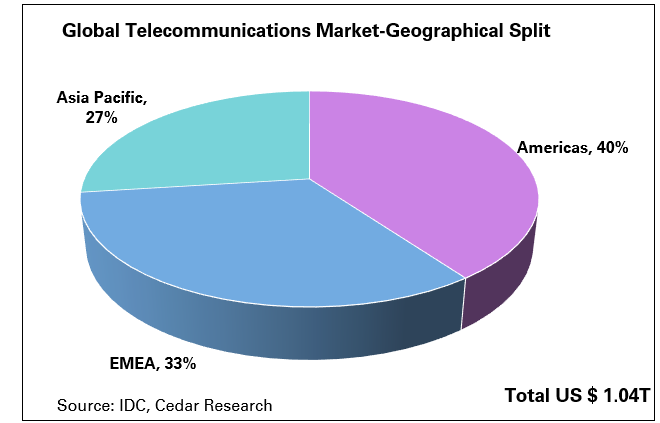 While the Americas contribute the largest share of the total telecom revenue, accounting for 40% in 2003, interestingly, it is Asia that has seen growth. The Asian market is predicted to grow the fastest at a CAGR of 6.5%, twice as fast as Americas (CAGR of 3%).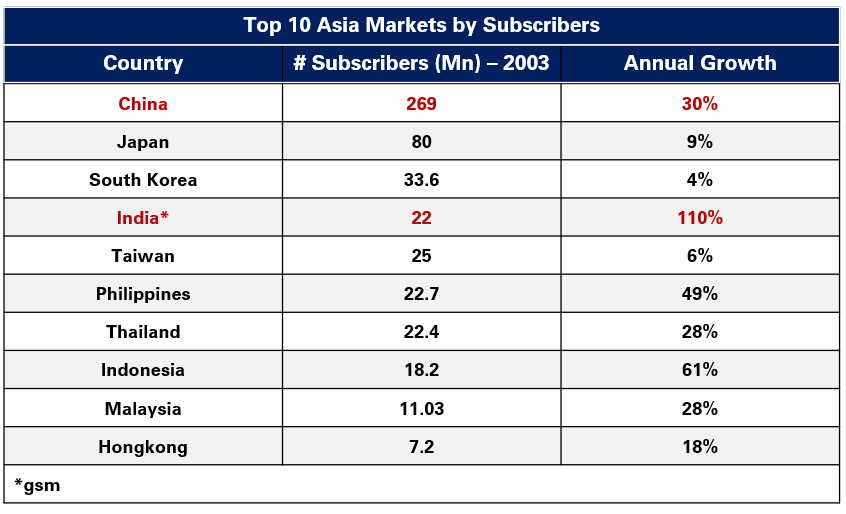 Asia as a whole can be segregated to Developing Asia (with the exception of China), China and Developed Asia. Whilst growth in Developed Asia is flat, it is India (Developing Asia) and China that are fueling the growth of the wireless market, drawing unprecedented attention from industry players and investors alike. While the Chinese market offers magnitude and volume, it is the Indian market that is offering growth.The two markets are at different stages of evolution and have their own unique characteristics. Let us look at the challenges and opportunities in both these two key markets.
Regulatory Environment
The exponential growth of the Chinese market can be attributed to unparalleled political will. China's Ministry for Information Industry, which regulates the telecom industry, had planned for a combined tele-density of 40 per cent by the end of 2005. This target was surpassed in 2003. China's telecommunication industry is far from being a competitive liberalized industry. Before 1994, the Ministry of Posts and Telecommunications (MTP) provided telecom services through its operational arm, China Telecom. Subsequently, the Chinese government officially initiated the telecom industry reforms in 1994 by introducing a new competitor in China Unicom. In 1998, due to a ministerial reorganization, the MTP was replaced by the new Ministry of Information Industry (MII). The MII undertook large scale reshuffling by targeting the inefficient state monopoly. In 1999, the first restructuring split China Telecom's business into three parts (fixed-line, mobile and satellite). China Mobile and China Satcom were created to run, respectively, the mobile and satellite sectors, but China Telecom continued to be a monopoly of fixed-line services.
Over the last decade the Chinese telecom industry has changed from a state run monopolistic structure to a state run oligopolistic structure. The MII is responsible for framing regulations, mapping policies and supervising competition. However, with policy planning, regulatory & ministry not clearly separated, MII is far from being a truly independent regulator. Following its accession to WTO, one can expect China to accelerate the process of establishment of a legal framework for the telecom industry and an independent regulatory and arbitration body.
In contrast, India's telecommunications evolution has been driven by political will, liberalization and industry deregulation. Under the 1994 telecom policy, the telecom sector was opened to private participation. However, due to lack of a legal and regulatory framework, the sector witnessed a number of litigations. The operator, regulator and policy maker was the same entity namely the Department of Telecommunications (DOT). Subsequently in 1999, a new telecom policy was introduced to allow multiple operators through a friendly licensing structure. A Unified Licensing bill followed the 1999 telecom policy to further support the convergence of technology, segmentation and application. The operators could select any suitable technology within the defined parameters, thus heralding the entry of CDMA Technology. Today, Both CDMA and GSM technologies are expanding the tele-density in the market.
Through appropriate legislation, two independent regulatory bodies have been formed. The Telecom Regulatory Authority of India (TRAI) for regulating the industry and Telecom Dispute Settlement Appellate Tribunal (TDSAT) for conflict resolution.
Foreign Participation:
Prior to its WTO accession, China protected its telecom industry. Only foreign equipment vendors were allowed to invest in China. Authorization for the investments was based on technology transfer. As part of its WTO commitments, the Chinese government is opening gradually, the carriers market to foreign investors. There are geographical limits to this, however these will be progressively relaxed. In 2005 foreign investors will be allowed to form joint ventures, invest up to 50% in Internet services and 49% in the mobile sector in 17 major Chinese cities. Companies will also be allowed to invest upto 25% in fixed-line basic services in certain areas such as Beijing, Shanghai and Canton (Guangzhou). Finding a Chinese partner to form a joint venture with, preferably a major carrier is mandatory for a foreign company wishing to access the Chinese market.
In comparison, India has raised the limit on the foreign direct investment to 74% from earlier 49%. The motive behind this is to raise finance for the country's rapidly expanding mobile operations. It is calculated that approximately US$ 20 bn will be required to further expand wireless networks in the short term, and Indian operators cannot finance this expansion on their own.
Market and Demand:
China's total tele-density (combined fixed and mobile subscribers per hundred inhabitants) in 2004 reached 42% and what is extraordinary is the speed of growth. By the end of 1995 China had a total of 44.3 million telephone subscribers (40.7 million fixed, 3.6 million mobile), but by 2004, the Chinese market had grown more than tenfold to over 530 million subscribers. During 2003 year alone, 111 million new telephone lines were installed in China with an average of over 200 lines a minute. The wireless penetration in China is higher than the wire line penetration
Chinese Telecommunication Market
Tele-density in India also has been growing. From a meagre 2.8% in 1999- 2000, the percentage of the population owning a telephone grew by an average of 80 basis points each year to touch 5.1% in 2002-2003. The trend continued in 2003- 04, with tele-density jumping by 200 basis points to 7.1 %. In unit terms, this increase means that the subscriber base for telecom services grew from 28.4 mn in 1999-2000 to 76 mn in 2003-2004, an annual increase of 28 %. In similarity to the Chinese market, the wireless penetration equaled that of wire line in 2004 and is expected to grow further.
In terms of absolute numbers there exists a huge difference between India and China. The difference in the subscriber base is due to various factors.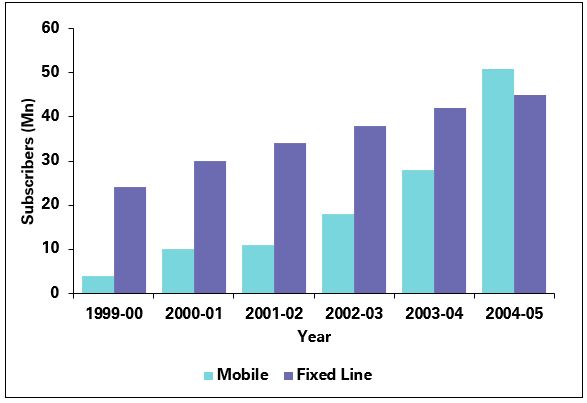 The addressable market in China is larger than that of India on account of higher per capita income. China also has a higher proportion of people in the working age group of 15-64.
Secondly, another difference between India and China is the dispersion of the addressable market, which affects the cost of service operations. The addressable market for mobile services is highly dispersed in India than in China. This implies higher capital expenditure for Indian operators to cover the same number of people than the Chinese companies. As per the Cellular Operators Association of India , compared to the Indian Mobile operator, a Chinese operator has to roll out services in half of the number of cities to access the same urban population.
It should also be noted that mobile services in India were started 7 years later than China, and hence the penetration of the addressable market (which is largely also a function of coverage achieved by the operators) in India is behind China. However, if the 7 years lead time is discounted and comparison is drawn on wireless subscribers base, then in the 8th year of operations, India has 4.5 times the subscribers as that of China.
The mobile subscriber base in India is expected to reach 170 mn by 2008-2009, representing about 50% penetration of the addressable market. During the same period the market in China is expected to reach 563 mn, representing 78% of the addressable market.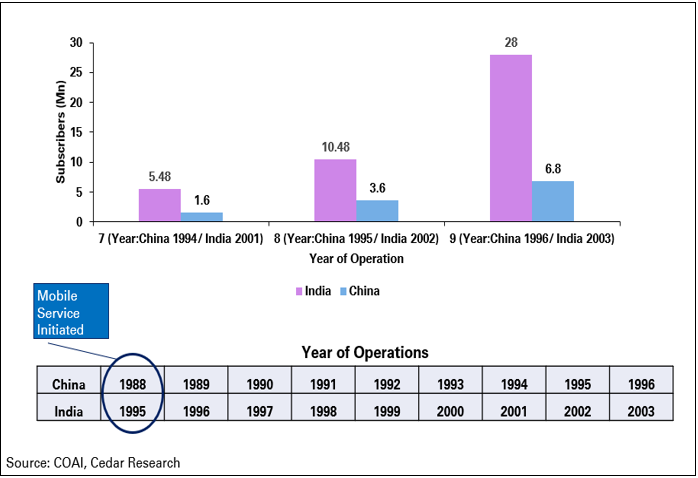 In spite of the late start in India, mobile phones crossed landlines in October 2004, 4 years after Philippines, 3 years after Thailand & 2 years after China.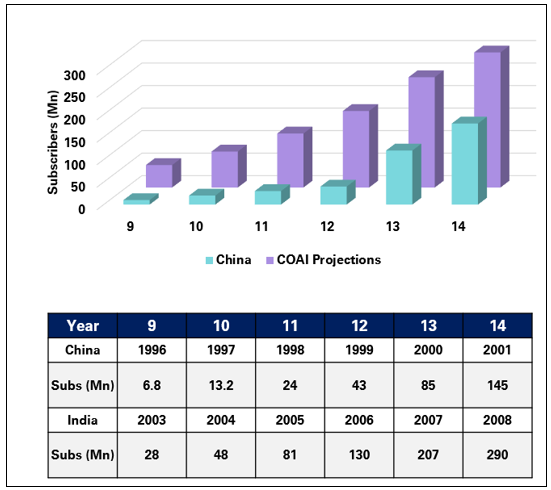 Due to intense competition, Indian operators face the challenge of higher prepaid subscribers (resulting in lower revenue and lower blended ARPUs) and higher monthly churn (7% in India as against 1% in China). However, operating costs/per subscriber/per month being comparable, Indian operators are faced with the challenge of managing the ratio of discretionary expense / revenue in order to maintain a healthy EBITDA margin.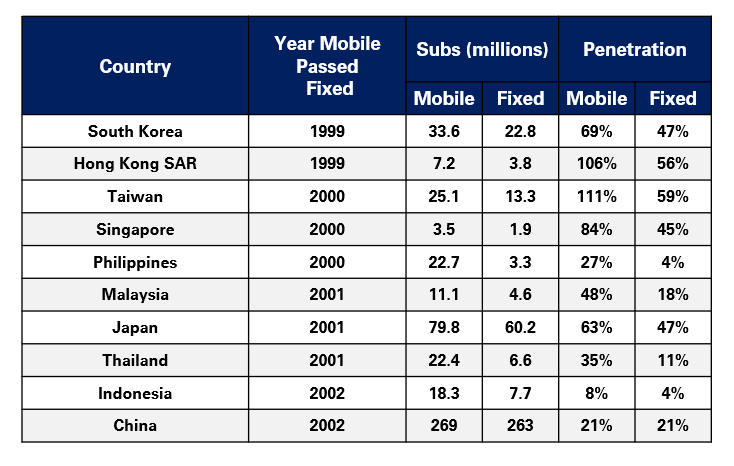 Road Ahead
China's entry into WTO will lead to opportunities for international investors. However International telecom players and investors entering the Chinese market should keep their eyes open to the potential pitfalls as well. With China Unicom and China Mobile still dominating the industry and many Chinese companies taking advantage of early opportunities in this market, foreign operators have the option either to invest in existing Chinese companies, or to partner with new entrants. Either way, they will retain only a minority shareholding. Moreover, the regulatory situation is still evolving and there is some uncertainty over how effectively legislation will be enforced. New foreign entrants will face a risk, as by the time liberalization comes into effect, they would have lost the opportunity to exploit early mover advantage. Although international players cannot ignore the opportunity and can reap considerable benefits from the Chinese telecom market, it is Chinese companies who are best positioned to take advantage of the opportunities.
In India, a liberalized economy, privatized sector, repatriation of funds, independent powerful judiciary and regulatory system and transparent fiscal system is attracting not only private equity from global telecom players, but also public equity and retail investors. With the government hiking the FDI cap in the telecom sector, a wave of M&As and public listing is likely to be seen in the near future. All the major private operators would be able to bring in foreign investments and strike better deals with global telecom firms looking to enter India. The inflow of funds would not be limited to telecom giants with pan-India presence, but smaller companies will benefit too. Many of the deals that had earlier been put on hold could now be revived, as new players with deep pockets are likely to enter the arena. Telecommunications in India has been one of the biggest success stories in the post reform period. One can certainly make a buy-call in this burgeoning market.
Talk to our Consulting leaders about how we can add value Contact us to make strategy & innovation work for you
Relevant CedarViews