GCC Property Development
From 'The World' to 'The Palms', Dubai is in the middle of a unique construction boom. But the growth is not limited to the UAE, with mega projects coming up in the region, particularly Kuwait, Saudi Arabia and Qatar. It all means that the entire construction industry is booming, with no sign of a downturn in near future. For those wanting to invest in real estate there is good news UAE allows property ownership for all nationalities, with Dubai permitting freehold status in select developments; Qatar & Bahrain have also passed legislation allowing non-GCC foreigners to buy freehold property in select developments. Similar legislation is imminent in Oman and KSA, which have seen huge inflows of Western money, without such a law.
The major planned projects investments across the 6 GCC countries in the next 10-15 years are estimated at a staggering value of over US $ 344 billion. UAE accounts for the highest announced investments with 47% (US$ 165 billion), followed by KSA and Kuwait at 22% and 14% each.
Commercial properties account for over 70% of the planned developments. Some of the largest developments taking place in the Gulf are Financial centres, given the enormous amounts being invested in the Bahrain Financial Harbour, Dubai International Financial Center, and now the Qatar Financial Center Regulatory Authority the stakes are high. Business districts like Business Bay, with planned investments of over US$ 50 billion, are not far behind.
Rental versus Property ownership

Historically expatriates were forced to rent properties for business and residence purposes, since ownership in any form was not allowed. With the businesses and population demand growing at a rate higher than the supply of properties, demand soon outstripped supply. This resulted in rents growing at phenomenal rates across all GCC countries, with the exception of Oman.
With a shortage of good quality properties, rentals grew at phenomenal rates, and nearly doubled in some cases. In the past 12 months too, even with rental hike regulations in place, especially in places like Dubai, the rentals grew between 5% to 20% in KSA to over 75% in Qatar.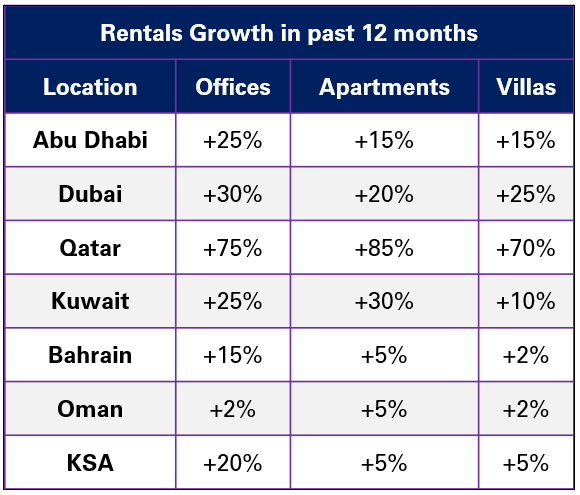 As soon as the various GCC governments announced property ownership for expatriates, pioneered by Dubai, and followed soon by Oman, Bahrain, Qatar, and lately Abu Dhabi & KSA, the pent up demand gave way to immediate sales of the announced properties. The initial properties stock which opened up for sale, were sold out in less than 24 hours!
The average price per square feet in UAE for commercial properties range from US$ 200-250, apartments US$ 100- 150 and villas US$ 150-250. The premium properties price per sq feet for commercial properties is $400, apartments US$ 225 and villas upto US$ 700 (Palm Islands). The pricing across other GCC countries is lower by around 30%-50% compared to UAE price per sq ft for commercial US$ 200, apartments US$ 70, villas US$ 100. Dubai is able to command a premium, due to its image of an investor friendly and 'easy to live in place' for expats and their families. This has attracted both investors and speculators to invest into Dubai and now Abu Dhabi properties.
The availability of finance through mortgages, and guaranteed residency status has driven the demand for freehold ownership. Large number of banks have tied up with the developers to finance the purchase of their properties.
Competitive Landscape
Some of the leading companies include quasi-government property developers like Emaar, Nakheel, Aldar, who account for over 80% of the announced freehold projects. Some of the other private developers who joined the fray include Damac, Tameer, ETA Star, Sorouh, and others. Most of these developers started operations in UAE, and are now diversifying not only into other GCC countries but also Asian countries like India, Pakistan, and China, which are highly populated countries.
The key competitors have also adopted different strategies. Emaar has focused on mass market 'on-shore' developments, and drives the pricing in the market. It focuses on large self contained properties like The Springs, Meadows, Arabian Ranches, and others. It is also the developer of the Burj Dubai, (world's tallest tower to be on completion) and its surrounding township. Emaar has now started tapping overseas markets like KSA, Egypt, India, Libya, Morocco, and Pakistan, through various tie-ups. Nakheel on the other hand has focused on unique developments and 'off-shore' properties through development of islands Palm Islands, World, etc. It has also tied up with large players like Trump, Kerzner, IFA, to develop luxury hotels and residential properties. However, both have ensured that the developments are of mixed-use in nature, to develop self contained communities.
Current Challenges
Amongst the developments announced till date across the GCC, most properties will be available for possession by 2008. Based on Cedar's analysis, properties worth US$ 31 billion will be available in the UAE and worth US$ 11 billion across the other GCC countries.

By around 2010, the square feet per capita in the UAE will be over 525 sq ft, and in the rest of the GCC around 100 sq ft, compared to 456 sq ft per capita in the UK and 720 sq ft per capita in the US. Hence, Dubai & Abu Dhabi are expected to be close to saturation levels compared to other GCC countries. However, other emirates in the UAE, continue to offer opportunities. Developers like Emaar and ETA Star have already announced freehold projects in Ajman and Umm Al Qaiwain.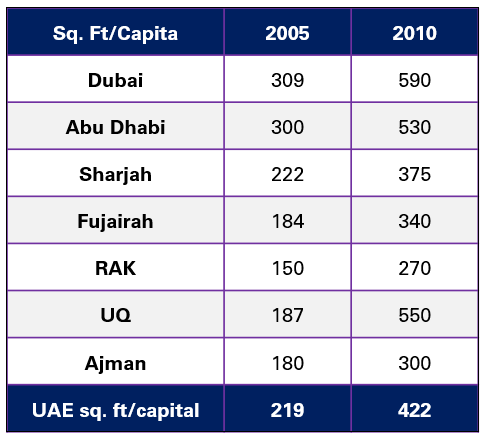 Some of the other challenges facing the rapid development are the quality of construction, facilities maintenance and infrastructure to support the developments in terms of airconditioning, sewage / waste water treatment, roads, power and desalination.
Facilities Management:
Upkeep and maintenance of the property has played a vital role for properties in the GCC. Large number of private FM companies have established themselves in the UAE, to manage outsourced contracts (40% in UAE and 20% in GCC). Developers like Emaar and Nakheel have set up captive FM companies to manage their properties.
District Cooling:
To support the ever increasing demand for air-conditioning district cooling has been an emerging industry in the UAE, with Tabreed being the pioneer, with over 70% share, developing and managing district cooling plants in the UAE and other GCC countries. Emaar and Nakheel have set up captive district cooling companies for their developments.
power, desalination, sewage & waste water treatment facilities have been historically provided for by the government utility companies. The governments in the UAE and GCC have planned new projects to take care of the various infrastructure services required to support the new developments in their countries. Privatisation opportunities of these services are limited, though captive models may offer more cost-effective solutions.
Future Opportunities:
Even with the large number of announced developments, the future is still bright in the GCC property development market, both residential and commercial. However, the strategy will be to differentiate from others. UAE offers opportunities in other emirates (excluding Dubai and Abu Dhabi), with self contained, premium, mix use developments. Other GCC countries, specially Qatar and KSA, also offer opportunities, with a lower price point compared to the UAE. Tie-ups with finance houses and banks to provide mortgages will be attractive option for potential investors.
All developments need to be supported by high quality facilities management and infrastructure services. However,whether they need to be outsourced or built on a captive model, is a decision to be based on the size and feasibility of the project.
The property development market across the GCC is a high wave, which is not expected to collapse soon.
To read more such insights from our leaders, subscribe to Cedar FinTech Monthly View
Talk to our Consulting leaders about how we can add value Contact us to make strategy & innovation work for you
Relevant CedarViews