The Central Bank of the UAE (CBUAE) has published a Consumer Protection Standards regulation with the intention to achieve fair treatment and protection of consumers. These, released in Feb 2021, provide an overarching guideline that every Licensed Financial Institution (LFI) needs to induct into their products, process & technology and organization to attain best in class service and highest standards of responsible financial practices.
With the sector growing by leaps and bounds in the UAE, the timing of these regulations will enable growing responsibly, promoting integrity & competitiveness and a establishing a fair playing ground for all players irrespective of the size. Needless to say, the nuances of the relationship between LFIs and their consumers will be elevated.
The Consumer Protection Standards regulation encompasses the following: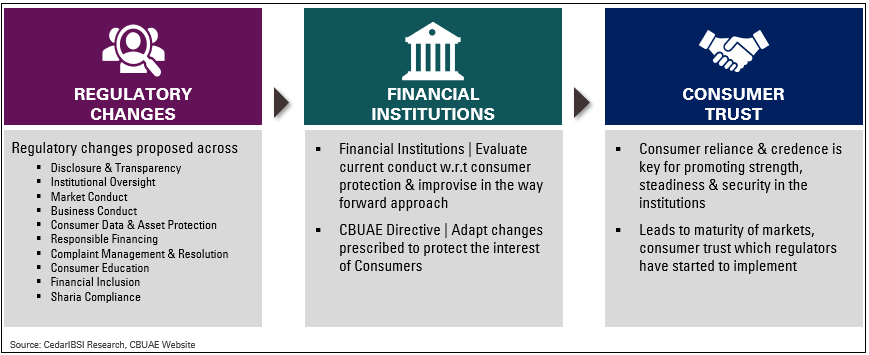 Impact & Benefits
Impact & Perceived Benefits to FIs revolve around improved compliance and promoting consumer confidence
Impact on Financial Institutions
Supervision: Enhanced supervision to identify compliance lapses and mitigate risks
Enforcement: Increased regulatory imposition and undertaking measures on demeanour
Customer Experience : Improvement of consumer experience, transparency & involvement with Banks
Perceived Benefits
Trust: Promote trust, clarity & visibility for customers and institutions
Technology: Impetus to invest in new age technologies to improve engagement & info. security
"Safe" Bank: Enhance confidence of consumers as a safe bank to acquire consumers & grow business
CPS | 10 Principles
CBUAE regulations revolve around 10 principles to achieve highest standards of consumer protection. These principles are:
Management Oversight : Implement & monitor strict oversight across operations and conduct towards customers
Business Conduct : Teams across verticals to treat customers fairly. Institutions to guarantee the same
Disclosure & Transparency: Clear & transparent communication across consumer lifecycle
Market Conduct: Fair playing field with ethical conduct across market
Data Protection: High degree of security & prudence in dealing with consumer data
Prudent Financing: Diligent lending & credit policies for improving quality of credit
Financial Inclusion : Widen reach of financial institutions without any discrimination towards consumers
Grievance Management: Transparency in effectively & timely addressing of complaints & issues
Islamic Banking: Sharia compliance in all aspects of consumer lifecycle and protect consumers.
Consumer Education: Improve education & awareness among consumers
Key Focus Areas
The 6 focus areas of the CBUAE directive on Consumer Protection Implementation are: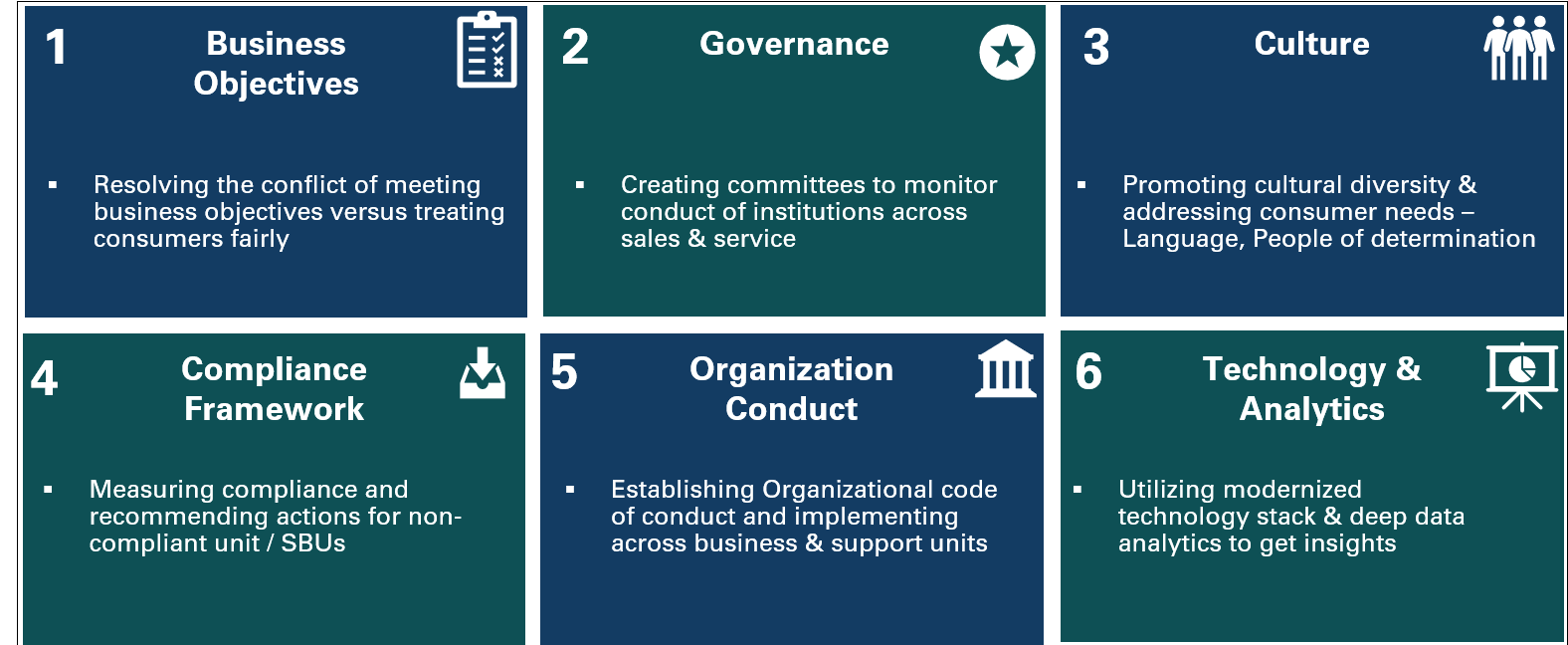 CPS | Insights & Implications
Top-down overhaul recommended – Governance, Org Structure and increased focus on Disclosure & Transparency

How Cedar Can Help
Cedar can help in diagnosing areas of concern, strategize on way forward and in its successful execution.
Diagnostic Review
Gap Analysis | Compared to CB mandated Future State / TO-BE state
Fit For Purpose | Specific Review across focus areas with Industry benchmarking
Way Forward Initiatives
Identify Way Forward Plan and prioritize initiatives for regulatory compliance around:
Technology
Process
Organization
Implementation Plan + PMO
Plan validation | Review and validate overall program objectives, quality standards
Risks | Identify risks and impacts, provide executive updates
To read more such insights from our leaders, subscribe to Cedar FinTech Monthly View
Talk to our Consulting leaders about how we can add value Contact us to make strategy & innovation work for you
Relevant CedarViews