Overall Banking Perspective

The impact created by the Corona pandemic has been unprecedented, both from the breadth of its global impact and also from the depth of economic and business disruption that it has caused. The implications have been far-reaching for global corporations, and quite obviously to Banks. There have obviously been initiatives that are driven by respective Governments and regulators that are to minimize the impact, but they pale in the context of the size of the implications that are to be braced.
The Covid-19 situation has impacted banks revenues, NPAs, service capability, business model, operating model, etc. In this difficult economic environment, there is great urgency to manage costs and asset portfolio prudently. However, cutting indiscriminately or too deeply may severely hamper the ability to grow revenues when the economic outlook improves.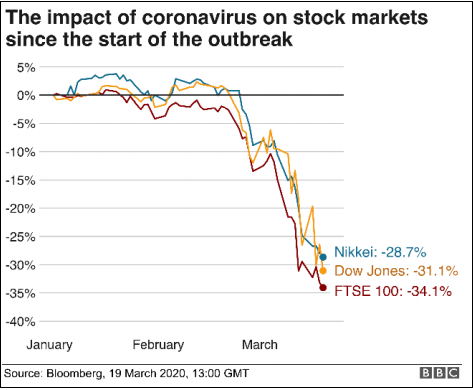 Banks – Key Challenges & Implications
From a banking standpoint, there are several immediate implications that emerge. They include:
Profitability and margins

Reduction in interest rates as margins get affected
Significantly lower business and consumer transactions leading to lower fee income

Industry/ Corporate Sector

Number of industry sectors negatively affected - oil & gas, consumer durable, automotive & more
SME/ Commercial clients under pressure for many sectors – reduced production/ demand and delayed payments from customers

Liquidity

Less liquidity from government as they need to finance deficits. And deferred spend – negative liquidity impact
Wealth Management customers see drop in portfolio values. Conversion to cash to preserve capital. Also, increased margin calls

Non-performing assets

Increased need for restructuring loans for individuals and businesses
Corporates: Larger number of NPAs, work out accounts due to inability to repay loan commitments
Retail: Loss of jobs/ personal income resulting in higher NPAs. Impact on cards, personal loans, auto loans and mortgages

Reduction in transaction volumes

Fewer branch, trade, operations transactions
High cost service model and infrastructure
Banks - Key Fixes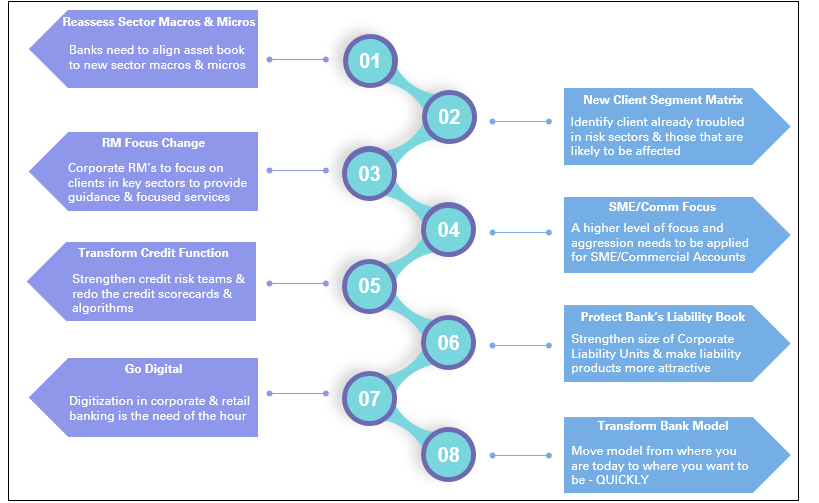 There are 5 key areas in banks that will require fixes and how Cedar Consulting can assist:
Business model Evaluate business lines that have low margins and move focus instead into lines that are inherently more costeffective and increase bank profitability. Identify and downsize/ exit certain business lines not in long term plans of the bank

Cedar Assistance: Fast-track assessment of the banks' key business lines. Develop a quick-win framework to identify long-term focus areas for the bank. Develop an implementation roadmap for downsize/ exit from non-focus areas

Digital enablement Assess the various ways customers interact with a bank in order to create a cost-effective combination that is adapted to each bank's specific customer base. This may require optimization/ closure of branches as banks adjust their geographic presence. An increase in digital/ online account and loan origination, coupled with incentives to use mobile and online banking as opposed to branches and call centers, as well as branch automation for better efficiency can go a long way towards helping banks cut service and distribution costs

Cedar Assistance: Fast-track strategy for design of a digital/ transaction banking model and identification of quick-win areas for improving fee-income. Develop framework for rapid on-boarding of customers and remote model for sales, service and implementation team.

Costs efficiency
Headcount: Headcount planning and rightsizing requires in-depth analysis of business and longterm impact on the business and future growth. Key considerations and analysis need to focus on external contract staff, non-profitable businesses – their origination and support teams, staff that cannot be upskilled, non-critical functions that can be outsourced/ vendor managed, etc.
Straight-through processing (STP) that are quick/ immediate fix opportunities using existing technology framework, driving automation of key internal processes
Projects and Initiatives: Review ongoing/ planned list of initiatives and capex projects and optimize based on criticality and future need. Cancel/ put-on-hold all non-critical initiatives
Cedar Assistance: Quick diagnostic review of the headcount and key cost drivers. Identify quick cost optimization opportunities across the 3 levers of people, process and technology. Recommend short & medium-term cost reduction initiatives that are high impact, low effort for fast-track execution
Detailed review of asset portfolio and customer segments
In-depth analysis of the portfolio's composition and its inherent risks. Need to understand the portfolio's product mix, customer segmentation, industry and geographic concentrations, average risk ratings, and other aggregate characteristics.
Provide solutions to customers based on their need and requirements.
Align business focus on relevant segments/ industries
Cedar Assistance: Diagnostic review of bank's portfolio using Cedar's 12x58 framework, determine customer/ industry segments that are highly risk and review the exposure levels across the portfolio. Develop strategy for new business focus and management of risky Retail/ SME/ Corporate segments by high-quality workout teams
Operating model
BCP updation and coverage including broad range of situations for banks to be prepared
Evaluating areas where non-critical processes can be outsourced to specialist organizations
Use of cloud technology and its use in various environments
Cedar Assistance: Diagnostic review of key operating/ technology areas requiring assessment. Conduct a deep-dive analysis, develop clear and executable strategy and roadmap for implementation
Cedar Consulting | Fast Track Programs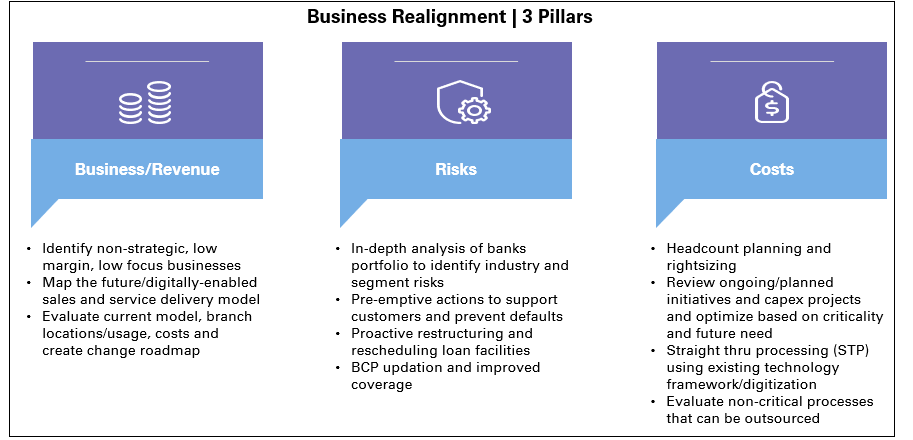 In quick programs of 4-6 weeks, Cedar will conduct a deep-dive analysis of any of the identified areas that are critical to the bank. With a 20+ year proven track record of working closely with banks, each program can be of tremendous benefit to banks in these difficult times in order to manage and sustain their cash flows and revenues effectively.
In today's dynamic market and economic environment, the bank that acts prudently and quickly will be able to protect its revenue, manage its portfolio and costs efficiently and stay competitive.
Cedar can also assist in the implementation of the various cost saving opportunities that get identified during the program.
Talk to our Consulting leaders about how we can add value Contact us to make strategy & innovation work for you
Relevant CedarViews