As the world is yet figuring ways of finding its feet against the backdrop of the pandemic, the one thing we are sure about for 2022 is the take-off of digital in the financial services world, to its next level.
If there has been a silver lining to the Covid dark clouds, it certainly was the accelerated drive that saw global banks embrace their foray into digital more than ever before. Interestingly, when we take a more holistic view of the digital penetration, it is not just about select banking areas, but also about several other facets that have a broader financial services orientation.
The markets have moved so much in the last year, that banks that have not been investing in building their digital platforms and having digital offerings are increasingly looked down upon. Digital is now hygiene. Just as a parallel, I'm reminded of the era when emails were becoming a norm in the late 90s: business cards that did not have an email address were frowned upon in much the same way! No prizes, therefore, for guessing that digital is the name of the 2022 game. The question is, where is this likely to be more pronounced and what implications it, therefore, has for banks and customers. And more importantly, what would be the areas that are likely to have the highest traction from an overall industry standpoint? Let us explore these in a little more detail.
One could broadly classify the impact of the digital penetration and the resultant outlook for 2022 into 3 broad buckets, Digital Banking, Digital Payments and Digital Lending: collectively, '3D'. The positive outlook across these 3 areas also has a 3-dimensional implication, across banks, FinTechs and customers respectively. On a different note, the evolution of Environment, Social & Governance issues is also predicted to have a multi-dimensional impact in 2022
Digital Banking
As banks are likely to be investing even more in technology that helps enhance their digital capabilities, the implications for 2022 would be higher adoption of self-service and a greater spend on APIs and open banking.
Even as the banking fraternity is coming to terms with this new age of digital banking and the nuances of defining neobanks versus challenger banks, one could already see persona-based self-service experience becoming a key value differentiator. This is not just for consumer banks, but also for SMEs and corporate banking micro-segments. Banks are likely to engage much more in having the Voice-of-Customer (VOC) initiatives, particularly for the Commercial and SME segments, and rolling out FinTech-enabled cloud-based service offerings aligned with customer preferences.
A natural corollary to this would be the impact that this would have on the API ecosystem. The evolving Open Finance business models demand a collaborative platform approach and open banking connectivity. FinTech-enabled service offerings, in an open banking era, are built on the back of API connectors, and more banks are likely to be investing in building their digital and API infrastructure.
Digital Payments
If the frenzy demonstrated by the investments made by PE firms is any indicator, then Digital Payments would undoubtedly sweep away all medals in the race for maximum industry traction for 2022. The share of traditional payments is expected to further reduce in 2022 in the increased payments pie, paving the way for API-enabled fees and open banking driven data monetisation. With the growing importance of real-time payments, many mid-size financial institutions are also looking to jump onto the payments' bandwagon. PayTechs providing single-stop payment services for customers are also likely to grab the greater limelight in 2022.
Instant payments and e-money are making deep inroads in the payment space, with greater emphasis on B2B payments and cross-border payments driven by BigTech expansion. The efficacy of digital offerings by banks for the corporate banking segment would be measured by the
B2B payment experience and this is likely to see much higher traction in 2022. Areas such as transaction banking services are likely to see a huge uplift, driven both by B2B payments as well as cross-border payments.
Digital Lending
The third leg to the 3D outlook is the Digital Lending space. Intelligent analytics-driven service offerings such as Buy Now Pay Later (BNPL) are at the cusp of driving digital payments and lending, promoting innovations in retail consumer spending based on instant credit decisions, using an alternate data engine.
The Digital Lending buzzwords to watch for in 2022 would include Alternative Credit Scoring, Microservices, Supply Chain lending, decentralised finance (DeFi) and API enabled Fintech ecosystem. The alternative lending market is projected to exceed $340 billion in 2022, according to industry estimates.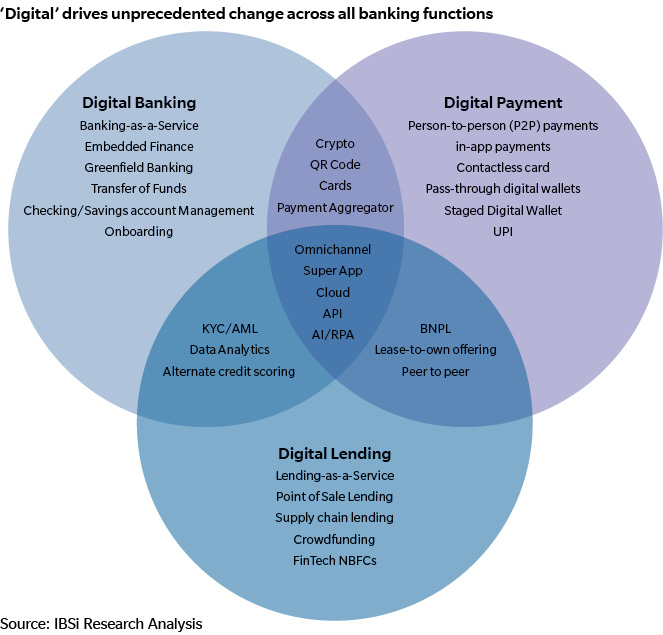 So, what does this all mean for the customer? Here are 3 key implications to be mindful of:
Self-service banking: With the advent of multi-platform banking services, the multi-channel experience would have more banking services move towards 'self-service' – similar to the shift we saw in the last decade where cash transactions moved from tellers to ATMs, the experience that will take centre stage would be mobility-driven self-service banking – both in the retail and the corporate banking space.
Product Innovations: If the arrival of FinTechs on the global banking stage has a very important takeaway for the community at large, it would be the plethora of products driven by technology-led innovation. BNPL is an excellent case in point. These products are not only keeping the competitive spirit of the industry alive and kicking, but also help bring in more of the 'not-so-creditworthy' customer segment that were hitherto avoided by banks into the growing pie of the Digital Lending market. The ability to adapt successful product innovations from other markets would become a critical differentiator for banks.
Cybersecurity: There is, as they say, a fine print to everything new. In this case, the comforts of digital banking, the convenience of digital payments and the new cosmos of digital lenders bring along the need for extra caution. Cyber threats will become a larger challenge than ever before and will continue to be an area for increased vigilance and related investments. As a natural consequence, regulations and compliance norms would see a broader outlook and global inclusive adoption.
Let's put on our seatbelts and get ready with the new 3D outlook. Welcome to 2022!
10 key predictions for 2022
The tech spend by banks will increase, to drive digital capabilities or their enablers
Digital offerings for corporate customers will be a key focus area for global banks
Open banking and collaborative API based ecosystems will move much closer to centre stage
Emphasis on ESG and publishing results in the public domain will be more pronounced
Digital payments will remain the most sought-after sector for PE funds and investors
FinTech enabled Digital Lending will drive the growing pie of the lending market
Self-service will become more ubiquitous, the default definition for new-age banking
A higher number of new and innovative FinTech-enabled products will gain currency globally
Cyber-risk and Cybersecurity will become much more integral to banking models
Regulations are likely to evolve to be more broad-based, inclusive and pan-border
To read more such insights from our leaders, subscribe to Cedar FinTech Monthly View
Talk to our Consulting leaders about how we can add value Contact us to make strategy & innovation work for you
Relevant CedarViews