Rapid rightsizing will be critical
Even if we have been wary in the past to right-size our organizations,we have been left with no choice now. It is survival of the fittest. Compensation is a critical cost for any organization – from 30%-60%. So, unless this is forcefully addressed, you are underwater. I have always said that people are important, but not at the cost of progress.Unfortunately, the time has now come to save the ship and most of your organization. The organization will have to transform, including cutting headcount. So how do you do it right?
1. Set-up your Agile COVID PMO
You will need to set up your COVID Project Management Office tomorrow morning, if you have not done so, so far. The time for democracy is over. This team has to be small. Just the CEO, CFO, HR Head, Business Head of the unit that is financially the most important (revenue or profit), and the Business Unit Head that has the most headcount. Total of 5.
Ever heard of AGILE? Well, that's the way smart businesses and banks run projects nowadays for both business and technology projects. If AGILE is implemented, you will have outputs/gains daily. There is no time to train for this method over weeks.Read about it, take some online courses for a few hours, use a consultant, and get going. The approach is simple. You set-up a task list on a weekly basis, do a huddle every morning, do a huddle every evening on the tasks completed that day and all completed tasks that are ready to roll out – get rolled out.
In the organizational transformation task-list, you are likely to have the following task:
• Immediate reduction of payroll cost.
• Headcount reduction.
• Organizational restructuring: Delayering the organization.
• Outsourcing & Temps.
• Making your organization highly performance-driven.
2. Salary Reduction
Remember all those years when your HR head told you to raise salaries every year because that is what the market is doing, and where some senior people were asking for compensation in some emerging markets like India higher than Chicago. Well, fortunately or unfortunately, the time has come to drastically dial back this number – now. The question is how much. While I can't be exact for every business, here are a couple of ideas.
The reduction has to be meaningful. It has to have a serious impact on cost, and also meaningful enough to impact people's behavior. By this stage, they need to have the fear of God in them. They need to realize that it could be as bad as the great depression, and they only need to google photos of the great depression to understand how lucky they are to have a job. Therefore, in my view the operative salary reduction number is 30% going all the way upto 50%. However, you need to do it now, while there is a significant concern at their end. Once the markets start to open up, this will be more difficult to do.
• There is another reason that 30%+ is right. Even if you don't believe that it is back to the great depression,you have to agree that our revenues will dial back 3-4 years, say 2016. So, you have to then look at your cost structures of 2016, and start benchmarking to those structures, including compensation cost. There is a high likelihood that if you did that, you will also come to a 30%+ reduction in payroll cost.
• Remember the inverted triangle principle of payroll cost.20%-40% of the headcount (most senior management) accounts for 60% of payroll cost. So, starting at the senior levels can have a very meaningful impact. There may be a salary level at the lowest end of the organization that you may not want to reduce salary for humane reasons.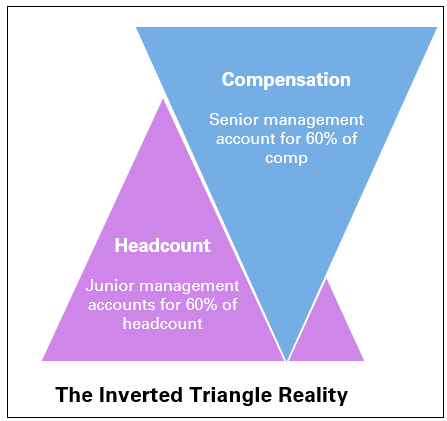 • Lastly, on this topic. This is CEO financial decision. You have to dispense with all the niceties of salary band compliance, etc. etc. for the moment. You are in an ICU.
3. Headcount Reduction
This is the hottest objective in a CEO's mind nowadays. How can I do it quickly, and efficiently with a minimum downside?
1. Reduction due to lower transaction volumes.
It's quite simple. Every function or business unit that is transaction volume-dependent gets hit first. If 30% of business is down, then 30% transaction volumes are down. For banks, it would be operations and branches. For factories, it could be factory workers, or anything related to the supply chain of moving products. For all other functions, it would be between 20%-30%.
2. Consolidation of activities
This could give you additional gains. Organizations over the years grow because we tend to draw a box for every activity, and staff it without even looking at transaction volumes, amount of time an activity takes, etc. This is even true for support functions. For example, if you looked at the Finance function – say Accounts Payable and looked at the number of transactions per day per accounts payable FTE, you will find anemic numbers. The point I am making that there will be many activities where you can simply consolidate the activity and release headcount. For all functions.
3. Operating Plants at stated labour specs of the equipment/process
I was reminded about this yesterday by a friend who owns a large manufacturing firm. His challenges are numerous, but his main one is that even if he wants to operate the plant with 30-40% of his team, he's finding it difficult. I can't turn this discussion into one related to plant productivity methods, but what I would say is that the 3-4 things you need to try to do – figure out your most profitable accounts, and key orders, and focus on delivering those with 100% OTIF (On-time-in-full), ensure you fully implement TOC or Kaizen or any other methodology you are using, look at your shifts, look at equipment loading balance, and most importantly look at the stated manpower needed on each machine spec. Very often factories use 10X-20X of the staff needed while the machinery that they bought from Europe is being operated in Europe with very low staff count.
4. Outsourcing & Temps
There will jobs that can be outsourced cost-effectively. Time to do it now. Just remember 2 things. You can only effectively outsource processes and functions that you understand really well and you know what it is costing you internally, so that you select the right outsourcer. And secondly, you will need somebody to manage the outsourcing partner effectively. There are plenty of outsourcing and temp options. In banking, it tends to be in sales (DSAs) or operations. In manufacturing, it's the "contract workers" in the packing section.
4. Delayering an Organization
This is more than just doing the above. In an organization there tend to be between 16-24 grades/titles for an employee who lives through the full life cycle of employment. Many Manager titles. The typical span of control is at the bare minimum 4, but in many organizations there is staff carrying the Manager title but is managing less than 4 people. In many cases, Managers are managing 1 person, and in some cases, not even managing anybody. Delayering an organization can help clean this up, and release headcount that should have never been there – even in good times.
You can consolidate positions – that is horizontal delayering. This happened to the US food industry in the '90s. Each product manager used to manage say 7 products. They simply got rid of the other product manager and loaded the 1st product manager with 14 products. Then you can do vertical delayering. In vertical delayering, you simply take out one or two levels of an organization. Say you had a Marketing Director, and then a Senior Marketing Director, and then a CMO. You eliminate the Marketing Director or Senior Marketing Director layer. One whole layer of management gone.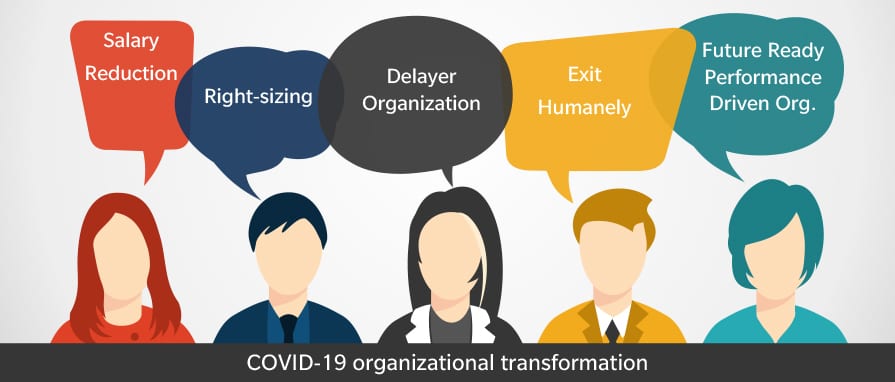 5. Whom to exit?
This is a tough one. Loyalty versus competency versus need. So many factors will come to mind in trying to make this call. Even when you execute steps 1-4 in this article, you will still have to make decisions on who goes and who stays as you will often have multiple people in a role. Here is a set of criteria to think about.
1. Those with poor performance and adm records
2. Those who most recently joined the organization, except those that are superior performers.
3. Those that are very close to retirement or have passed retirement age, but you have not let them go for various reasons.
4. Employees whose salaries have just been going up over the years because of tenure, but they continue to do the same job. Exception of course is those with superior performance.
5. Employees that are not team players, or always put themselves first, before the organization or their colleagues. Also, people who are always negative and complaining.
6. Is there a humane way?
Yes, there is a humane way to do it, and hopefully it will help you sleep at night. With US clients in the past where I was doing a headcount reduction, I could justify it with a 2-year payback. What that means is that if I exited one employee, I could spend 2 years of their salary to make it happen – payout to the person, etc. In the current context, that will not work. In fact, most will be tempted to use the US method of Friday Pink slip as employment there is by choice. The UK is providing some furlough options. The few humane things that can be done under these circumstances include continued insurance and health benefits for another 12 months, hiring a counsellor to help them deal with the stress, hiring an outplacement firm where you pay the cost of outplacement, continuing to pay say 50% of the compensation beyond the official notice period you may have with the employee for say another 90 days, continuing to pay any benefits related to schooling, etc. for the children for a period of time.
7. Making your organization performance driven
We are all in this together, and we all know it's a bad situation. But with this we have been given a lifetime opportunity to transform our organization to really become a performance driven one – not just having 30% of employees doing all the hard work, and everybody cruising along cutting a coupon every month. Clean up the organization and then put in a strong set of individual performance measures into place using the Balanced Scorecard, and more importantly shift your variable compensation balance to being 20%+ for as many layers of the organization as possible. Make it a pay-for-performance organization.
Hope this has been helpful. If it's not enough, please call me 🙂 and read my book.
My last word is to my friendly HR professionals. I know you well. My father was a thought leader in this area. Most HR professionals (often rightly so) are trained to think about the well-being of the employee, Great-Place-To-Work, etc. Many CEOs complain to me that HR Heads are often worried about the employees rather the overall well-being of the organization, its financial state, and the shareholders. Well, this is the time for all of you to stand-up and show you can do the heavy lifting.
Stay Safe.
To read more such insights from our leaders, subscribe to Cedar FinTech Monthly View
Talk to our Consulting leaders about how we can add value Contact us to make strategy & innovation work for you
Relevant CedarViews